Jacinda Tran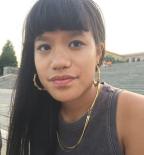 Jacinda Tran is a PhD candidate in American Studies with a graduate certificate in Women's, Gender, and Sexuality Studies. Her dissertation, "Search and Destroy: Southeast Asia/ns through the Lens of U.S. Visual Warfare," charts the transnational and transhistorical visual archives of U.S. intervention in Cambodia, Laos, and Vietnam.
By analyzing the urban and imperial topographies of Southeast Asian racial formation during and after the so-called Vietnam War, "Search and Destroy"  considers technologies of visualization alongside wartime violence, militarized rescue, national securitization efforts, and refugee resettlement. Toward this end, Jacinda explores the circulation of visual warfare through a range of lenses, such as: aerial surveillance, chemical deforestation, photojournalism, and interracial conflict, among others. In addition to receiving awards and fellowships from Yale University, the project is supported by the American Association of University Women, the Historical Society of Pennsylvania, and NYU's Asian/Pacific/American Institute.
Jacinda graduated from Bryn Mawr College with a B.A. in Growth & Structure of Cities. As a Mellon Mays Undergraduate Fellow, she completed a thesis on post-conflict hotel development in Siem Reap. The work interrogated the implications of hotel architecture and urban development for both the reconstruction of Cambodian identity and its tourism industry. Even with her focus on Southeast Asia/ns, Jacinda's teaching and research seeks to reveal and disrupt the ocular-centrism that structures race and power more broadly.
Asian American Studies; Carceral Studies; Critical Refugee Studies; Cultural Geography; Feminist Security Studies; Race and Affect; Transpacific History; Urban Studies; Visual Culture; Women's, Gender, and Sexuality Studies