Scott Herring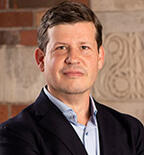 Professor of American Studies and Women's, Gender, & Sexuality Studies
Scott Herring (he/him) is Professor of American Studies and Women's, Gender, and Sexuality Studies at Yale University. His primary research focuses on the overlap between LGBTQ studies and American literary and cultural studies, with particular interest in critical rural/regional studies, critical age studies, and material culture studies. He is the author of Aging Moderns: Art, Literature, and the Experiment of Later Life (Columbia University Press, 2022); The Hoarders: Material Deviance in Modern American Culture (University of Chicago Press, 2014); Another Country: Queer Anti-Urbanism (New York University Press, 2010), winner of a Lambda Literary Award; and Queering the Underworld: Slumming, Literature, and the Undoing of Lesbian and Gay History (University of Chicago Press, 2007). 
He is also co-editor, with Lee Wallace, of Long Term: Essays on Queer Commitment (Duke University Press, 2021) and editor of The Cambridge Companion to American Gay and Lesbian Literature (2015; Choice Outstanding Academic Title) as well as a scholarly edition of Autobiography of an Androgyne (Rutgers University Press, 2008). This editorial work complements curation of special issues and sections of GLQ and Modern Fiction Studies; service on editorial boards including Journal of Modern Literature, PMLA, Genders, Soundings, Modern Fiction Studies, and Modernism/modernity; and a book series, Abnormativities: Queer/Gender/Embodiment, launched for Ohio State University Press in 2016.
Over more than two decades, journals such as American Quarterly, GLQ, American Literary History, American Studies, Public Culture, PMLA, Modernism/modernity, African American Review, and Angelaki have published various essays of his on topics ranging from rural lesbian and gay print culture to modernist LGBTQ longevity. He was recently a recipient of a 2019-2020 NEH Fellowship. Before joining Yale's faculty, he was appointed James H. Rudy Professor of English at Indiana University.
Courses Taught
LGBTQ Spaces and Places
LGBTQ Life Spans
Sex, Gender, and U.S. Modernities
Frailties