Ryan Brasseaux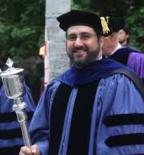 Dean of Davenport College and Lecturer in American Studies
Davenport College Dean's Office, 248 York St.
Ryan André Brasseaux is Dean of Davenport College and Lecturer in American Studies at Yale. His research explores vernacular American soundscapes, the American Gulf Coast, U.S. cultural history, and cultural trauma and social networks in Francophone North America. He teaches courses in French North America and "Introduction to Public Humanities"—the gateway course for the MA program in public humanities. In addition to his scholarly publications, Brasseaux's public work has focused on the production of local knowledge, oral history and ethnography, interpretive musical performance, documentary radio and film, and museum exhibit design.   
His publications include: Cajun Breakdown: The Emergence of an American-Made Music; Accordions, Fiddles, Two-Step and Swing: A Cajun Music Reader; and Stir the Pot: The History of Cajun Cuisine.
Contact info:
Email: ryan.brasseaux@yale.edu