Maria Plascencia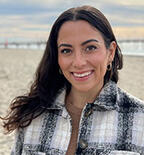 ---
María José Plascencia is a Ph.D. candidate in American Studies. Her dissertation, "Aqui Empieza La Patria: Labor and Placemaking in Tijuana from 1930-1970," is about the political, cultural, and spatial contributions made by working-class communities in the developing border region. In her research, MJ explores how people anchor themselves and their families through work, politics, and civic engagement in Tijuana, a city often only thought about as a space of transit. 
MJ grew up in the Tijuana - San Diego border region and is a community-based scholar who collaborates with grassroots historians and archivists. She is committed to the Public Humanities and has worked on projects that extend her scholarship beyond the university. As a first-generation college graduate and Latinx scholar, MJ is committed to mentoring students from diverse backgrounds throughout their careers.
María José's work has been supported by the Mellon Mays Undergraduate Fellowship (MMUF), the Yale Center for the Study of Race, Indigeneity, and Transnational Migration (RITM), the Yale Office for Graduate Student Development & Diversity, and the Macmillan Center at Yale University.
Latinx Geographies, Border Studies, Race and Ethnicity, Transnational Histories, and Latinx Studies