Madiha Tahir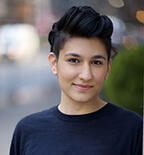 Madiha Tahir is an Assistant Professor of American Studies and the co-director of the Yale Ethnography Hub. She is an interdisciplinary scholar of technology and war with interest and expertise in digital war, surveillance, militarism, and empire and technology studies from below. Her work intersects the anthropology of war with insights from the fields of postcolonial, South Asian, and Black Studies literatures to reframe our understanding of technology, war, and US imperialism. For the 2023-2024 academic year, Tahir is also a Whitney Humanities Faculty Fellow.
Tahir's current book project explores U.S. drone warfare and transnational militarism in the Pakistan-Afghanistan borderlands. She is currently also pursuing a collaborative, multimodal project on the afterlives of the 'war on terror' funded by Columbia University's Brown Institute for Media Innovation. Tahir is the co-editor of Public Culture's special issue "Violence and Policing" (2019) and the co-curator of Technologies of War with Adrien Zakar, a public humanities virtual series of ongoing conversations on the role of the humanities in the wake of the war(s).
A former journalist, she is the director of Wounds of Waziristan, a short documentary essay film that tracks 2 drone survivors as they reflect on the afterlife of bombardment. She is also the co-founder of the South Asian bilingual, online journal Tanqeed with Mahvish Ahmad, and the co-editor of Dispatches from Pakistan (University of Minnesota Press).
Before coming to Yale, Tahir was a Mellon Postdoctoral Research Fellow at the Center for Imagination in the Borderlands at ASU. She received her Ph.D. from Columbia University. 
website | schedule an appointment
Publications:
2022. "Sensorial Geopolitics." Vital Topics Forum. American Anthropologist website.
Al-Bulushi, Ghosh, and Tahir. 2021. "American Anthropology, Decolonization, and the Politics of Location." Vital Topics Forum. American Anthropologist website.
2019. "Introduction: Violence and the Police Order." Public Culture 31(3): 409-418.
2017. "The Ground Was Always in Play." Public Culture 29(1): 5-16.
2017. "The Containment Zone." Life in the Age of Drone Warfare. Eds. Lisa Parks and Caren Kaplan. Duke University Press.
Tahir, Madiha, Qalandar Bux Memon, and Vijay Prashad, eds. 2014. Dispatches from Pakistan. University of Minnesota Press.
Other writing:
2021. "The Distributed Empire of the War on Terror." Boston Review. September 10.
Film:
2013. Wounds of Waziristan. Parergon Films and Journeyman Pictures.