Hector Peralta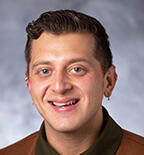 ---
Hello; Saludos! My name is Hector Peralta Martinez and I am a PhD candidate in the American Studies program within Yale's Graduate School of Arts and Sciences. Broadly, I research, write, and teach about U.S. formations of race and ethnicity, the history and culture of the U.S.-Mexico border region, and Latinx migrant geographies. As an interdisciplinary scholar of race and ethnicity, I am committed to uplifting grassroots community-led education initiatives that are aimed at expanding access and enhancing the quality of public schools, public memory, and civic engagement.
In my dissertation, "Kumeyaay Valleys, Mexican Opportunities: Race, Territory, and Belonging in East County San Diego," I demonstrate how ideas related to "Mexicanness" has been imposed on, and productively appropriated by, Indigenous members of the Kumeyaay nation. I define Mexicanness as the alleged racial and cultural practices associated with the categorical classification of "Mexican." As my primary sources, I use oral histories of and by Kumeyaay tribal members; ethnographic participant observation of casino-based tribal economies; and, textual analyses of archival records like newspapers, official reports, and government correspondence found in tribal, federal, and local archival collections. I argue that notions of Mexican racial and ethnic identity directly informed how Kumeyaay people reacted to, reformed, and revised four distinct yet interconnected processes, each of which is a separate topic for the four chapters that make up my dissertation.
In my dissertation, I explain the four interlinked processes as follows: The first process was the creation and transformation of the reservation system in San Diego County during the late 19th- and early-20th century. The second process concerns how the communities neighboring the reservations became sites of vital, everyday, public local economies in the time between the Great Depression and World War II. The third chapter is premised on how Mexicanness shaped the emergence and diversification of casino-based reservation tourism in the 1980s and into the 2000s, reversing the confinement design of the federal reservation system. Lastly, the fourth arena in which I document Mexicanness as informing the lives of indigenous Kumeyaay in San Diego County is within the development of Kumeyaay-led K-12 educational organizations designed located in East County San Diego.
Beginning with my undergraduate years at Brown University, where I earned a B.A. in Ethnic Studies and a second B.A. in Education Studies, my research has received invaluable funding, support, and mentorship from the Mellon-Mays network and the Social Science Research Council. Internally at Yale, I have benefited from fellowships at the Beinecke Rare Book and Manuscript Library at Yale University; the Yale Center for the Study of Race, Indigeneity, and Transnational Migration; American Studies Department; the Yale Office for Graduate Student Development & Diversity; and The Whitney and Betty MacMillan Center for International and Area Studies.
 
Human Geography. Ethnic Studies. Latinx Studies. Migration and Diaspora Studies. Education Studies. Settler Colonialism & Empire. History of San Diego County.