Greta LaFleur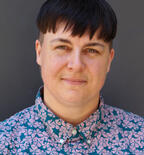 Associate Professor of American Studies and Women's, Gender, and Sexuality Studies; Director of Graduate Studies American Studies
Sign up for office hours here.
Prospective Students: Please read THIS before emailing me or other AMST faculty.
Greta LaFleur is Associate Professor of American Studies and Women's, Gender, and Sexuality Studies. Prof. LaFleur's research and teaching focus on early North American literary and cultural studies, the history of science, the history of race, the history and historiography of sexuality, and queer & trans studies. Her first book, The Natural History of Sexuality in Early America (Johns Hopkins University Press, 2018), reveals how eighteenth-century race science contributed to emerging sciences of sex in the colonial Atlantic world. They are currently at work on two new projects. The first, a scholarly monograph tentatively titled How Sex Became Good: The Feminist Movements and Racial Politics that Made Modern Sexuality (under contract with The University of Chicago Press), tracks how cultural and legal responses to the problem of sexual violence shaped the politicization of sexuality in the modern period. The second is a co-authored book of essays, authored with anthropologist Cal Biruk, on birding, under contract with the Practices series at Duke University Press.
LaFleur is also the editor of two collections: Trans Historical: Gender Plurality Before the Modern (with Masha Raskolnikov and Anna Klosowska), published by Cornell University Press in 2021; and American Literature in Transition, 1770-1828 (with William Huntting Howell), published by Cambridge University Press in 2022. They are also the series editor, with Blake Gutt and Emily Skidmore, of the six-volume A Cultural History of Trans Lives, under contract with Bloomsbury Publishing. 
Prof. LaFleur is also the editor of three journal special issues: a special issue of American Quarterly, "Origins of Biopolitics in the Americas" (2019, with Kyla Schuller); a special issue of Transgender Studies Quarterly on "Trans Exclusionary Feminisms and the Global New Right" (2022, with Serena Bassi); and a special issue of GLQ on "The Science of Sex Itself," (2023, with Benjamin Kahan). 
Her writing has appeared in Early American Literature, Early American Studies, American Quarterly, American Literature, Criticism, The New Republic, and on BLARB: The Blog of the Los Angeles Review of Books and Public Books. Their research has been supported by fellowships at the Institute for Advanced Study (School of Social Sciences), the American Council of Learned Societies, the Massachusetts Historical Society, the William Andrews Clark Library at UCLA, the John Carter Brown Library at Brown University, the Clement Library at The University of Michigan, the American Antiquarian Society in Worcester, MA, The Newberry Library in Chicago, and The Baldy Center for Law and Social Policy at The State University of New York at Buffalo.
LaFleur holds a PhD from the University of Pennsylvania and a JD from The University of Connecticut.