Fadila Habchi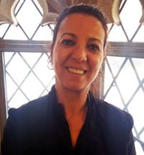 Lecturer in Ethnicity, Race, and Migration
---
Fadila Habchi received her B.A from the City College of New York and her PhD from Yale University. Her research explores the literature, culture  and history of the African diaspora in the Caribbean and in Europe. She examines the relationship between space, race, gender and literature, colonial history, postcolonial memory and contemporary decolonial movements. Her current project investigates memory projects of the Algerian war of liberation and of anti-slavery struggles in Martinique and in France.
Before joining the faculty at Yale, she taught in the Women and Gender Studies department at Northern Arizona University. She was also the Interim Dean at Branford College and at Grace Hopper College.
At Yale, she teaches courses in comparative ethnic studies, postcolonial and decolonial theory, Caribbean literature, and postcolonial urban thought.