Daniella Posy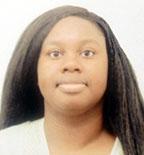 ---
Daniella Posy received a B.A in Urban Studies as well as a B.A in Film and Media Studies from Queens College. As a Mellon Mays Undergraduate Fellow (MMUF), she focused on black women's blues performance as well as depictions of African Americans in film and television. In 2014, the MMUF published her article titled "White and Black Womanhood in the Pre-Code Era" in their Undergraduate Fellowship Journal. The article focuses on an examination of the relationships between black and white female characters in Old Hollywood films. 
At Yale, she curated an online exhibition for Yale Library's Oral History of American Music (OHAM) archive titled "The Struggles and Triumphs of Bessie Jones, Big Mama Thornton, and Ethel Waters."
Her current research focuses on the construction of race, gender, and sexuality in 20th century black periodicals.
Race, Gender, and Sexuality Studies, African American Studies, Popular Culture, Film and Media Studies, Urban Studies