Charlotte Hecht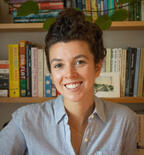 ---
Charlotte Hecht is a Ph.D candidate in American Studies. She is a researcher and writer who draws on interdisciplinary methods from cultural and environmental history, geography, and visual studies to tell stories about power, place, and people. Her current work focuses on historical and contemporary landscapes impacted by layers of US militarism, scientific experimentation, and industrial production.
Her dissertation, "Convergence Lines: A History of Nuclear Landscapes in the United States," is a cultural, spatial, and environmental analysis of the US nuclear industry, past and present. Making use of government and corporate archives, cultural analysis, and personal history, the dissertation traces the uneven impacts of radioactive waste and nuclear fuel supply chains, narrates the history of military engineering laboratories and radar stations, and explores the way that nuclear landscapes are ideologically produced through photography and visual culture. Focusing on sites that have been considered mundane, small, or tangential to this history, the project illuminates how a multitude of everyday landscapes and lives have been shaped and produced by the U.S. nuclear-industrial complex in ways that can be hard to see, continue in the present, and are part of longer American histories of inequality.
In her teaching and writing, Charlotte is dedicated to public education and scholarship beyond academia. She has published essays in public-facing outlets such as The Los Angeles Review of Books and Art & Object. She is a Wurtele Gallery Teacher at the Yale University Art Gallery, where she leads public tours for K-12 school groups and adults. Prior to graduate school, she held positions at the Department of the Interior Museum and the Smith College Museum of Art. She received her B.A. in American Studies from Connecticut College in 2016. 
Environmental humanities, cultural history, critical human geography, science and technology studies, photography and visual studies, public writing