Amanda Rivera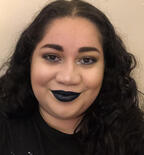 ---
My name is Amanda Rivera and I'm a first year graduate student in the Department of American Studies. I'm also a 2020-2021 graduate fellow at the Yale Center for the Study of Race, Indigeneity and Transnational Migration. I attended Rutgers University as an undergrad and received my Bachelors degree in Cultural Anthropology, with a minor in English. While there I directed and edited a short documentary film entitled "American Bilingüe," an exploration of a bicultural Mexican-American family's endeavor to retain Spanish in raising their children. I also served as a research assistant for the Latino and Caribbean Studies Department, archiving artifacts documenting the department's student activist-directed history. This generated a project of my own, entitled "Luchando por Nuestros Hermanos: Prison Reform, Puerto Rican Studies, and Rutgers," an analysis of creative expression and its positive impact on the self-perception of incarcerated Puerto Rican men in a New Jersey state prison.
My research interests primarily concern Latinx identity and political belonging, particularly in Puerto Rico. More specifically, I'm interested in how Puerto Ricans across the diaspora perceive of themselves as both American citizens and colonial subjects in relation to the island's socioeconomic disparities, precipitated by neoliberal economic practices at the hands of the United States and worsened by the aftermath of Hurricane Maria. I'm also interested in the impact of feminist political activism in Puerto Rico, seen most vividly in the successful ousting of Governor Rosselló in the summer of 2019. How does feminists unite the diverse population of the island under political protest, and can such power be wielded to combat ongoing violence against women and members of the LGBTQ community?
As a student of anthropology, I'm drawn to ethnographic methods of research, but I'm also curious about film and its methodological implications.