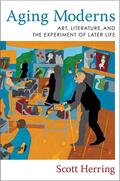 What happens when the avant-garde grows old? Examining a group of writers and artists who continued the modernist experiment into later life, Scott Herring reveals how their radical artistic principles set out a new path for creative aging.
Aging Moderns provides portraits of writers and artists who sought out or employed unconventional methods and collaborations up until the early twenty-first century. Herring finds Djuna Barnes performing the principles of high modernism not only in poetry but also in pharmacy orders and grocery lists. In mystery novels featuring Gertrude Stein and Alice B. Toklas along with modernist souvenir collections, the gay writer Samuel Steward elaborated a queer theory of aging and challenged gay male ageism. The Harlem Renaissance dancer Mabel Hampton dispelled stereotypes about aging through her queer of color performances at the Lesbian Herstory Archives. Herring explores Ivan Albright's magic realist portraits of elders, Tillie Olsen's writings on the aging female worker, and the surrealistic works made by Charles Henri Ford and his caregiver Indra Bahadur Tamang at the Dakota apartment building in New York City.
Showcasing previously unpublished experimental art and writing, this deeply interdisciplinary book unites new modernist studies, American studies, disability studies, and critical age studies. Aging Moderns rethinks assumptions about literary creativity, the depiction of old age, and the boundaries of modernism.