Melinda Stang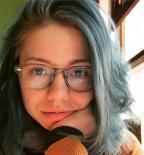 ---
M. Stang is a joint Ph.D. candidate in American Studies and Film & Media Studies. M. develops cultural histories and theories of 19th and 20th-century U.S. public amusement, entertainment, and media. Across their research projects, M. considers how American recreation and leisure are essential to the ritual reproduction of white supremacy and anti-democracy in the United States. Their dissertation, Crypts of Fear, is a history of Halloween and haunted house attractions. They treat these attractions as museological sites that can present lost episodes in not just the history of Halloween but also American popular culture as a whole.
Before Yale, M. earned an M.A. in Cinema & Media Studies with a certificate in Gender & Sexuality Studies from the University of Southern California and a B.A. in History & History of Art with High Honors and Distinction from the University of Michigan. M. was a Michigan Tradition and James B. Angell Scholar at UM, which distinguished their academic merit as a member of underrepresented communities on campus.
M. is a first-generation and low-income college graduate, informing their commitment to improving university and public education access through teaching and service. At Yale, M. is the American Studies Senior Essay Coordinator for the 2023/2024 academic year and has independently taught Film & American History courses. As a representative on department and university committees, M. emphasizes graduate, first-gen, and low-income students' unique needs. In the past, M. has served on the Graduate Student Assembly, Film & Media Studies Graduate Curriculum Committee, and American Studies Graduate Advisory Council.
Alongside their studies, M. is an educator and academic outreach specialist in museums who fosters inclusive community programming for K-12 and adult learners. Since 2009, M. has held outreach-oriented positions with the Yale University Art Gallery, the University of Michigan Museum of Art, the University of Michigan Health System's Public Arts Program, the Motown Museum, and the Norton Museum of Art. 
Public Amusement; Popular Culture; Hollywood Film & Television; Immersive & Interactive Entertainment; Historic Site Exhibition; Performance Studies; Race & Ethnicity; Secularism; Anti-Democracy; Fear; and Hauntology