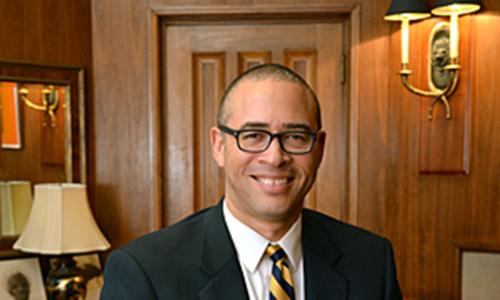 Jonathan Holloway, dean of Yale College and the Edmund S. Morgan Professor of African American Studies, History, and American Studies, will become the next provost of Northwestern University, the two universities announced Nov. 21.
Holloway, who earned his Ph.D. in history from Yale in 1995, began his career at the University of California-San Diego, before joining the Yale faculty in 1999. He is a noted scholar of post-emancipation United States history, with a focus on social and intellectual history. His publications include "Confronting the Veil: Abram Harris Jr., E. Franklin Frazier, and Ralph Bunche, 1919-1941" and "Jim Crow Wisdom: Memory and Identity in Black America Since 1940"; in 2015 he wrote an introduction for a new edition of W.E.B. Du Bois' "Souls of Black Folk," published by Yale University Press.
To Yale College students, Holloway is best known as dean, a role he assumed in July 2014. He previously held appointments as head of Calhoun College, chair of the Council of Heads of College, director of undergraduate studies, and chair of the Department of African American Studies. He has led or served as a member of several planning committees related to the upcoming increase in undergraduate enrollment. He received the William Clyde DeVane Award for Distinguished Scholarship and Teaching in Yale College in 2009. 
"Dean Holloway has been a thoughtful and innovative steward of Yale's undergraduate mission," Salovey wrote in a campus-wide email. "He has been instrumental in paving the way for a smooth and successful expansion of Yale College, which will come to fruition next August with the opening of Pauli Murray and Benjamin Franklin colleges. He has been a calm and compassionate presence in turbulent times, and an unswervingly wise leader for the college and our wider campus." (Read the full text of the announcement here.)
Read the full news release issued by Yale News.