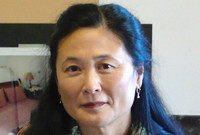 With great enthusiasm we announce that Lisa Lowe will be joining American Stuides.
Lisa Lowe will begin her appointment in January 2019 as the Samuel Knight Professor of American studies, focuses her research and teaching on literatures and cultures that emerge from histories of colonialism, migration, and globalization.
Lowe comes to Yale from Tufts University, where since 2016 she has been Distinguished Professor of English and Humanities and director of the Center for Humanities. She joined the Tufts faculty in 2012, after several decades at the University of California-San Diego (UCSD). While at UCSD, she served at many levels of university governance, from chairing the Department of Literature in 1998-2002, to serving on the editorial committee of the University of California Press in 1995-2000, and chairing the Board of Governors of the University of California Humanities Research Institute in 2002-2005. During the 2007-2008 academic year, she was a visiting professor of American studies at Yale.
Follow the link to read the official announcement: Yale News  
A hearty welcome!