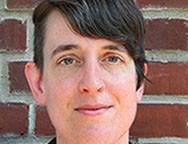 A hearty congratulations to Katie Lofton!  
Yale News reported that Professor Kathryn Lofton has been appointed to a five-year term as dean of humanities for the Faculty of Arts and Sciences (FAS) through June 2024, pending formal approval by the Yale Corporation.
Lofton, who has been acting FAS dean of humanities for the 2019-2020 academic year, is professor of religious studies, American studies, history, and divinity. She currently chairs the Department of Religious Studies. 
For the complete article visit YaleNews