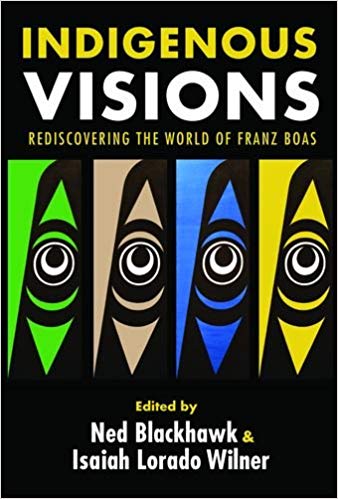 I write with the wonderful news that Indigenous Visions: Rediscovering the World of Franz Boas, a volume co-edited by Ned Blackhawk and Isaiah Lorado Wilner (recent Ph.D., History) has been awarded the 2019 Modernist Studies Association Book Prize for an edition, anthology, or essay collection.
Here is the citation:
Franz Boas has received considerable attention from scholars in recent decades, so his roles formulating the disciplinary methods of anthropology, countering pseudo-scientific racisms, and mentoring a highly diverse and influential group of intellectuals are well known. However, this extraordinarily well researched volume edited and introduced by Blackhawk and Wilner demonstrates that Boas's work accomplished so much, in large part, because it emerged out of a remarkably broad assemblage of Indigenous collaborators and because it formulated agency rather than passivity regarding the knowledge production of colonized and dispossessed peoples. In viewing Boas as a globalist thinker through his engagements with Native peoples, the contributors to this volume pose ambitious, fresh insights regarding the implications of Boas's work across disciplinary boundaries and geographic regions, including Europe, African, and Latin America. Far from a celebration of Boas, essays also point to many new lines of critique in his work, including his assessments of Indigenous peoples' futures. Approaching Boas as a theorist, practitioner, and facilitator of globalist inquiry, this scrupulously researched, richly evidenced, lucidly written volume challenges existing views of the politics and poetics of anthropology in a timely, illuminating way for 21st century discussions of global, regional, and local cultures for a wide range of disciplines.
Many congratulations to Ned and Isaiah!