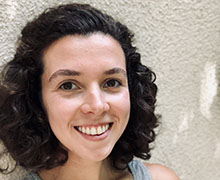 Congratulations to Charlotte Hecht on her recent publication, "Between Destruction and Beauty: Exhibiting Photographs of Militarized Landscapes."
A review of a 2022 exhibit at Harvard Art Museums called Devour the Land: War and American Landscape Photography Since 1970. A link to the review is available at project muse
Charlotte Hecht is a PhD candidate in American Studies. Her interdisciplinary work broadly focuses on visual culture, the built environment, and landscape. Her dissertation is a cultural history of nuclear landscapes in the United States.