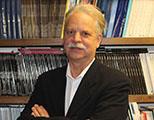 The Society for Cinema and Media Studies has selected Charles Musser as the recipient of its Distinguished Career Achievement Award.
The award honors a scholar who has made "an outstanding contribution through research, teaching, and service to the field of film and media studies." In its citation, the society stated that "Musser has played a crucial role in helping to define the core questions, methods, and objects of interest that constitute the field of cinema and media studies. His research, teaching, filmmaking, and public humanities projects model how to productively move across disciplines as well as how to synthesize theory and practice in innovative and inspiring ways."
Mussser will receive the award at the society's annual conference in April, where he will deliver a presentation reflecting on his career and the field of film and media studies. The society is the leading scholarly organization in the world dedicated to promoting a broad understanding of film, television, and related media through research and teaching grounded in the contemporary humanities tradition.
To read the complete article visit Yale News 
Congratulations Charlie!