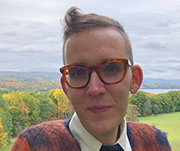 We are pleased to announce that Bench Ansfield's dissertation, "Born in Flames: Arson, Racial Capitalism, and the Reinsuring of the Bronx in the Late Twentieth Century," was selected as an honorable mention finalist of the 2021 ASA-Ralph Henry Gabriel Dissertation Prize!
Their dissertation challenges deeply misunderstood histories of arson, race, and class, making risk assessment and insurance central to that historical and contemporary misunderstanding and misapprehension."
Established in 1974, The Ralph Henry Gabriel Dissertation Prize has been awarded annually since 1987 by the Association for the best dissertation in American Studies.
For more information about the American Studies Association or the Gabriel Prize visit 
ASA
.