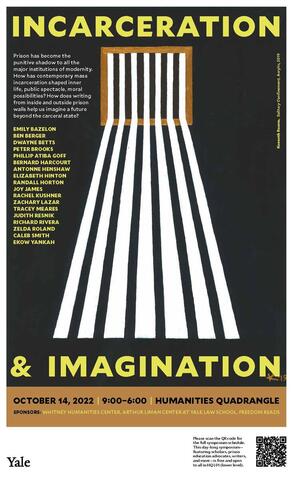 Event time:
Friday, October 14, 2022 - 9:00am
Event description:
A symposium at Yale University
Free and open to the public
Humanities Quadrangle: 320 York Street, New Haven
OCTOBER 14, 2022
HQ L01 (lower level)
Prison has become the punitive shadow to all the major institutions of modernity. How has contemporary mass incarceration shaped inner life, public spectacle, moral possibilities? How does writing from inside and outside prison walls help us imagine a future beyond the carceral state. This day-long symposium in the Humanities Quadrangle at Yale—featuring scholars, prison education advocates, writers, and more—is free and open to all.
The Symposium starts from the fact of mass incarceration in the US today and attempts to understand how mind reacts to imprisonment—both the image and the reality.  For over two centuries, Western societies have built a penal system founded principally on incarceration. How has this fact shaped inner life, public spectacle, moral possibilities? How might artistic creation about incarceration help us bring about a more humane future?
MORNING SESSIONS
9–9:15 a.m. WELCOME
9:15–10:45 a.m. THE LITERARY HISTORY OF THE INCARCERATED MIND
Moderator: Emily Bazelon
Speakers: Phillip Atiba Goff, Rachel Kushner, Caleb Smith
Respondent: Joy James
11 a.m.–12:30 p.m. THE IMAGE OF PRISON IN THE PUBLIC MIND
Moderator: Judith Resnik
Speakers: Elizabeth Hinton, Zachary Lazar, Ekow Yankah
Respondent: Tracey Meares
LUNCH
AFTERNOON SESSIONS
2 p.m.–3:30 p.m. INCARCERATION, DECARCERATION, AND EDUCATION
Moderator: Peter Brooks           
Speakers: Bernard Harcourt, Antonne Henshaw, Zelda Roland
Respondent: Ben Berger
4 p.m.–5:30 p.m. READINGS
               Dwayne Betts, Randall Horton, Richard Rivera
RECEPTION
5:30 p.m. RECEPTION FOR PARTICIPANTS AND AUDIENCE
The painting featured on the symposium poster—Solitary Confinement (2019)— is the work of Kenneth Reams(link is external), currently incarcerated on death row in Arkansas. We thank him for allowing us to share his work.
Sponsored by Whitney Humanities Center, the Arthur Liman Center at Yale Law, and Freedom Reads. The organizers thank Richard Weisberg and the Law and Humanities Institute for additional support for the symposium.