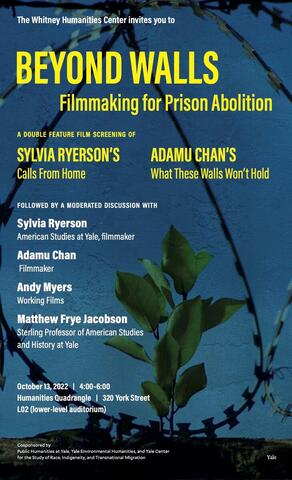 Event time:
Thursday, October 13, 2022 - 4:00pm
Event description:
Beyond Walls: Filmmaking for Prison Abolition
The Whitney Humanities Center invites you to a double feature film screening of Sylvia Ryerson's Calls from Home and Adamu Chan's What These Walls Won't Hold followed by a moderated discussion. 
How might films about life within prisons help us imagine a future without them?
How can filmmakers, nonprofit organizations, scholars, and community members collaborate to amplify prison abolition? 
Sylvia Ryerson, American Studies, filmmaker 
Adamu Chan, filmmaker 
Andy Myers, Working Films 
Matthew Frye Jacobson, Public Humanities at Yale  
Cosponsored by Public Humanities at Yale, Yale Environmental Humanities, and Yale Center for the Study of Race, Indigeneity, and Transnational Migration
For more information: https://whc.yale.edu/event/beyond-walls-filmmaking-prison-abolition