Najwa Mayer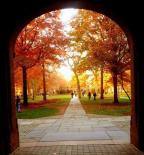 ---
Najwa Mayer is a PhD Candidate in American Studies at Yale University, where she also earned a Master's concentration in Public Humanities. She received her BA in Literature at the University of California, San Diego. Her work centers contemporary popular, visual, and performance cultures, with particular emphasis in South Asian American and transnational Muslim cultures. Her scholarship has received research support from the Henry Luce Foundation and the Columbia Center for Oral History, and has been awarded by the California American Studies Association.
She is currently completing her dissertation, which considers both the racialization and mobilization of "Muslim American" identities via popular visual and performance cultures through theorizations of race, ethnicity, religion, gender, sexuality, and liberalisms in the 20th and 21st century United States.
Najwa teaches courses in Asian American Literature and Cultural Studies; the War on Terror in Popular Culture; as well as Ethnicity, Race, and Migration.
She is a founding member of the North Eastern Public Humanities Consortium (neph). She has contributed to the curation of modern and contemporary work by Arab and Muslim artists in the Yale University Art Gallery as well as the Whitney Humanities Center.
Critical Race and Ethnicity Studies; Transnational Feminism; Cultural History; Visual and Performance Studies; 20th C US Literature; Contemporary Art; Public Humanities