Maile Speakman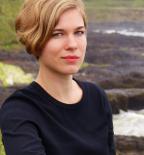 ---
Maile Speakman's dissertation "Coding the City: Race, Affect, and Techno-Capitalism in Contemporary Havana" is an ethnography of the social, spatial, economic, and affective impact of U.S. technology platforms in Havana. She is particularly interested in how histories of slavery, colonialism, and U.S. imperialism intersect with Havana's digital markets and how U.S. executives imagine Cuba as a techno-capitalist frontier. She also charts the relationship between gentrification, platform tourism, and racial exclusion in Havana's cityscape. Her project draws on fourteen months of ethnographic research in Havana and elsewhere with U.S. venture capitalists, multinational technology corporation executives, Google affiliates, fiber optics specialists, Airbnb guests and hosts, local entrepreneurs, and social media influencers. Her secondary field sites are Silicon Valley and Montego Bay, Jamaica, where she attended a conference called Tech Beach to interview high profile tech executives about their visions of the Caribbean.
Maile first started living and studying in Havana in 2007 as an exchange student at ISA Universidad de las Artes. Since then, she has received a B.A. in Sociology/Anthropology summa cum laude from Lewis & Clark College and an M.A. with distinction in Latin American Studies from Tulane University. Her M.A. thesis documented how different networks of intellectuals in Havana have circulated queer theory in the past twenty years. 
Maile has presented her work at Vrije University in Amsterdam, Harvard University, and a number of annual association meetings. In 2017 and 2018, she also worked as an editorial assistant for Social Text where she organized the The Here and Now of Dispossession: A Social Text Symposium.
Cuban & Caribbean Studies, Race and Affect, Urban Studies, Science and Technology Studies, U.S. Empire, Gender & Sexuality Studies, Critical Theory, Anthropology of Capitalism, Post-Socialism