jub Sankofa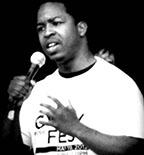 ---
jub Sankofa is an organizer, researcher, instructor, and tech social entrepreneur.
Currently,  jub is a  doctoral candidate in the Joint Ph.D programs of African American Studies & American Studies. He received his B.A in Africana Studies at the University of Cincinnati. jub then obtained a Master of Arts Degree in African American Studies from the University of California at Los Angeles (UCLA). While at UCLA, jub was a co-founding member of the Justice Work Group-a network of students, faculty, and community members working on issues related to incarceration, education, and reentry. His master's thesis, The Trap: Black Youth and the Carceral State in California, 1929-1939, illuminates the California Penal system's role in restricting the labor and mobility of migrant youth in the Great Depression. 
jub's  multi-disciplinary research and teaching methods explore digital humanities, documentary, migrations, Black freedom movements, carceral histories, confinement literature, the Black West, labor, and American history from 1850's to the present. One of jub's primary fields of research and teaching focuses on Black women's history at the intersections of race, gender, sexuality, and the criminal legal system in the early 20th century. 
jub's dissertation, "Fugitive From Justice": Black Itinerant Sex Workers Confronting the Carceral State in the North American West, examines the lives of young Black migrant women, underground economies, and the professionalization of policing and the criminal legal system. Fugitives From Justice uses prison case files in California and other states in the American West and British Columbia, Canada, police mugbooks, newspapers, probation and parole applications, and other archival sources to reconstruct a story about race, gender, labor, migration, and punishment in the American West
 In 2019, jub co-founded just futures LLC, a tech, research and consultancy firm that focuses on virtual and augmented reality, documentary and digital storytelling, the school/abuse to prison pipeline, youth education, probation, parole, jail and prison abolition, commutations, and a host of other criminal legal issues.
 Publications:
Juvenile Corrections in the Era of Reform: A Meta-Synthesis of Qualitative Studies
African American Studies, Late 19th and 20th century Black Women's History, The Black West, U.S. Carceral Regimes, 20th Century Policing, Juvenile Justice, Prison Organizing, Reentry, Confinement Literature, Social Movements, Public Humanities