Garrett Felber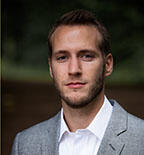 Garrett Felber received his B.A. in English from Kalamazoo College, a M.A. in African American Studies from Columbia University, and a Ph.D. in American Culture from the University of Michigan, Ann Arbor. He is an interdisciplinary historian whose work focuses on 20th-century social movements, the Black radical tradition, and the carceral state. Felber's Those Who Know Don't Say: The Nation of Islam, the Black Freedom Movement, and the Carceral State (UNC Press, 2020) received the Merle Curti Intellectual History Award from the Organization of American Historians and was a finalist for the Museum of African American History's Stone Book Award and the African American Intellectual History Society's Pauli Murray Book Award. He is co-author of The Portable Malcolm X Reader (Penguin 2013) with Manning Marable and has published articles in the Journal of American History, Journal of African American History, Journal of Social History, Souls, and South African Music Studies.
He is currently writing a biography of former political prisoner Martin Sostre, We Are All Political Prisoners (under contract with the University of North Carolina Press). He is co-editor of "The Abolitionist South" with T. Dionne Bailey for Southern Cultures. His research has been supported by Harvard University, Michigan Law School, New York State Archives, Atlanta Clark University, the Schomburg Center for Research in Black Culture, the Huntington Library, the African American Intellectual History Society, and the Marguerite Casey Foundation.
Felber is committed to abolishing the prison industrial complex and all forms of state violence. He was the lead organizer of the Making and Unmaking Mass Incarceration (MUMI) Conference and founder/director of the Parchman Oral History Project, which led to a 50th anniversary commemoration of the mass arrests and expulsions of Black students from the University of Mississippi in 1970 and the formation of a taskforce dedicated to documenting this history and proposing reparations to those harmed. He also cofounded Liberation Literacy, an abolitionist collective led by directly-impacted people in Portland, Oregon. He is an organizer with Study and Struggle, a project that organizes against criminalization and incarceration in Mississippi through mutual aid, political education, and community building.
Felber's teaching interests include the study of grassroots organizing, state violence, racial capitalism, anticolonial movements, and U.S. empire. Before joining Yale, he previously taught at the University of Mississippi.