Dicky Yangzom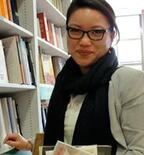 Dicky Yangzom is a sociologist whose research explores the interdependency between cultural economy and human ecology with a focus on waste as material culture. Her most recent publication, "From Rag trade to Thrifting: the cultural economy of secondhand clothing" traces historical meanings of used-clothing from an alternative form of currency in the Ancien Régime to both its contemporary vexed place in the global trade, and popular culture on sustainable fashion. Currently, she is working on a book project about secondhand fashion cultures in New York City.  
Before joining the faculty at Yale, she taught in the Department of Media, Culture, and Communication at New York University. At Yale, she teaches an introductory course on Public Humanities.
Yangzom received her PhD in Sociology from Yale University, her M.A. in Liberal Studies from The Graduate Center CUNY, and her B.S. in International Trade and Marketing and A.A.S. in Fashion Design from The Fashion Institute of Technology.