Devin McGeehan Muchmore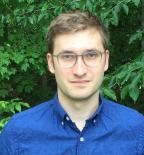 ---
Devin's research and teaching focus on the interrelationships among gender, sexuality, age, and economic life in the twentieth-century United States. You can read more about his work here. 
His dissertation examines pornography and sex toy industry business cultures in the 1970s. It explains how an influential cohort of small business owners worked to integrate sexual businesses into American consumer culture and, in the process, forged new connections​ between the politics of sexual freedom and economic deregulation.
His ​next project investigates the history of sexuality in elder care settings in the twentieth-century United States. ​Devin is also an editor at Notches, an international and collaborative public history blog dedicated to the history of sexuality, and a producer for Sexing History, a history of sexuality podcast. ​
He has taught courses on a range of topics in U.S. history and culture, including U.S. Lesbian and Gay History, Asian American History, Religion in Modern America, and Women in Modern America. Most recently, he taught Love, Sex, and Commerce in the United States, an advanced seminar on intimate economies and social reproduction.
twentieth-century U.S. history, gender and sexuality studies, economic life, age studies and critical gerontology