Bryan Wolf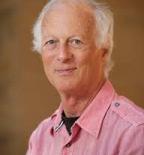 Visiting Professor of American Studies (spring 24)
Jones Professor in American Art and Culture, Emeritus, Stanford University
B.A., Rice University, 1969
Master of Arts in Religion, Yale Divinity School, 1971
Ph.D, American Studies, Yale University, 1977
Bryan Wolf's scholarly interests combine Art History, American literature, visual culture, cultural studies, and seventeenth-century Dutch art.  His first book, Romantic Re-Vision: Culture and Consciousness in Nineteenth Century American Art and Literature, explored antebellum American art through a post-structuralist and post-Freudian lens.  His study of seventeenth-century Dutch painting, Vermeer and the Invention of Seeing, argued for the role of early market culture in the construction of modern ways of seeing.  He has co-authored a textbook on American art, American Encounters: Art, History, Culture, and is currently working on a book titled Hidden Histories, an exploration of the ways that three artists have responded in unconventional and often subversive ways to the historical events that have shaped their worlds: Philip Guston and the Holocaust, Martin Puryear and the Civil Rights Movement, and William Kentridge and South African apartheid.  While at Stanford, Wolf served as the Inaugural Co-Director of the Stanford Arts Initiative, and the Stanford Institute for Creativity and the Arts.
recent publications include:
"Between the Lines: Philip Guston, the Holocaust and 'Bad Painting'," American Art 34, 1 (Spring 2020), 50-85.
 "Conversation Piece," Response to Tom Crow, British Art Studies 7 (3 November, 2017),  https:://doi.org/10.17658/issn.2058-5462/issue-0
"Reflections on Teaching American Art History," Roundtable on Pedagogy: Jules Prown, Panorama 2.1, Summer, 2016 (e-journal)
"Of Air Pumps and Tea Pots: Joseph Wright of Derby, John Singleton Copley and the Technology of Seeing," Art History (special issue on Art and Technology in Early Modern Europe), 39 2 (April 2016), 356-75.
"Imagining the World of Jacob Lawrence" in Promised Land: The Art of Jacob Lawrence, ed. Elizabeth K. Mitchell (Cantor Arts Center, 2015), 18-23.
"Writing History, Reading Art: A Response to Rachel DeLue's 'The Challenge of Contemporaneity, or, Thoughts on Art as Culture'," Blackwell Companion to American Art, ed. John Davis, Jennifer Greenhill, Jason LaFontaine (Blackwell, 2015)
"Martin Puryear, Desire," Conversations: An Online Journal of the Initiative for the Study of Visual and Material Cultures of Religion, 2014, http://mavcor.yale.edu/conversations/essays/martin-puryear-desire
"Up/Down in Two Sculptures by Martin Puryear," American Art  25 (Spring, 2011), 22-4