Alissa Romanow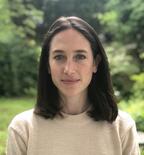 Lissy Romanow received her B.A. from Columbia University. She is an organizer whose work focuses on strategy in grassroots organizing and its transmission across context.
Before joining Yale, she was the Executive Director of Momentum, an organization which trains and coaches organizers in the lessons of social movements. She cofounded IfNotNow, an organization of American Jews dedicated to ending the Israeli occupation of Palestine, and was previously a lead organizer with Neighbor to Neighbor, an economic and environmental justice organization in Massachusetts. Her work has been featured in outlets such as the New Yorker, the New York Times, and Vice, and she has published articles in outlets such as the Stanford Social Innovation Review and Waging Nonviolence.
Romanow is currently writing a book on the history and future of grassroots organizing strategy in the United States.